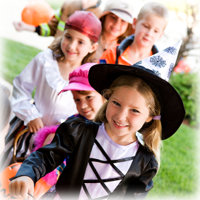 Choosing and wearing a fun costume is one of the highlights of Halloween. In fact, the costume is what many children and parents remember about past Halloweens… "Oh, that was the year you were a dinosaur!".
Some children have very distinct ideas about their costumes… "I want to be a princess with a beautiful pink and white dress and a sparkly tiara". Consider your child's input and try to accommodate preferences within reason.
If your child doesn't have a specific costume in mind, look at costumes together for ideas. Costume Express has a wide variety of costumes. Popular costumes for 2013 are Super Man, Batman, Ninja Turtles, Iron Man, Mario, Wizard of Oz Witches, Monster High, Disney Princesses, Fairy and Mermaid.
Think about when and where your child will wear the costume. It's not uncommon for a costume to be worn on multiple occasions, such as to a party the weekend before Halloween, a costume parade at school, and finally for trick-or-treating on Halloween.
In this case, your child needs a costume that will hold-up, is easy to get on and off, and can at least be spot cleaned. Comfort is especially important for a costume that will be worn multiple times. Once the novelty of a new costume wears off, costumes that are tight, scratchy, or restrict movement won't be much fun.
Costumes made from cardboard boxes are not comfortable and leotards that creep down or headpieces that fall off become frustrating. Do a costume dress rehearsal a few days ahead of time to make sure your child can comfortably sit, walk, and step-up and down in the costume.
Also consider the likely weather scenarios when choosing a costume. If Halloween weather is unpredictable in your area, you'll want a costume that you can adapt to a range of temperatures, as well as rain or even snow. A costume that can be worn over long underwear or a turtleneck sweater can get your child through a chilly evening without having to wear a coat.
If rain is in the forecast, buy a clear raincoat or poncho to have on hand. Alternately, buy an inexpensive umbrella and decorate it to coordinate with your child's costume. For example, a pink umbrella trimmed with lace for a princess or a black umbrella with dangling spiders for a witch.
Be sure to consider the safety aspects of your child's costume. The classic sheet-over-the-head ghost costume is a perfect example of what you DON'T want in a Halloween costume – a long flowing costume that's both a tripping and fire hazard and limits vision.
Trips and falls are a major cause of Halloween injuries. Make sure your child's costume fits properly and doesn't drag the ground or tangle around little feet. If a costume is too tight or restricts movement, cut a few strategically placed slits to enable your child to walk and climb steps properly. Help small children up and down porch steps and lighten their loads by occasionally transferring their candy to a bag that an adult carries.
Use face paint instead of mask to ensure that your child can see properly. Avoid large swords, brooms, and wands that would hurt if fallen on. If your child's costume is black (witch or vampire), add reflective tape and glow sticks and have your child carry a brightly colored treat bag.
Store bought costumes are typically made of flame resistant material. If you make a costume, avoid loose, flowing costumes (ghosts) that could get too close to someone's lit jack-o-lantern.
If you're making a costume, start with sweats, pajamas, or even long underwear for easy and comfortable costumes. Green sweats can easily be made into frog or dinosaur costumes. Gray sweats can become elephant, bunny, or robot costumes.
Animal print pajamas (cow, tiger, Dalmatian) just need headband ears, a tail, and face paint for a one-of-a-kind animal costume. Add an appropriate hat or prop to turn your child's favorite superhero or action figure pajamas into a fun costume. Wrap a couple rolls of medical gauze over beige long underwear for a mummy costume. Soak the gauze in tea ahead of time to "age" it.
Use clipart and special printer paper to make iron on transfers to put on t-shirts, such as a skull and crossbones for a pirate shirt. Print out a large radioactive symbol and other scientific symbols and iron these onto a white lab coat for a mad scientist costume. Just add safety glasses, smoky face paint and messed-up hair (hair gel).
Try these other fun and easy costume ideas:
Apple: oversized red sweatshirt with brown tights and a green hat
Alien: green pajamas or sweats with headband antenna and green face paint
Be Your Own Superhero: form fitting sweats or pajamas in your child's favorite color with an iron-on superhero logo (star, swirl, lightning bolt) with your child's initial
Bear: brown sweats with headband or ski cap ears and painted face
Builder: blue jeans, flannel shirt, tool belt and yellow construction helmet
Butterfly: brightly colored leotard with green tights, poster board wings, and headband antenna
Candy Corn: white skirt, orange shirt, yellow pointed hat
Chef: black pants, white shirt, apron, white chefs hat
Clown: oversized clothes, colorful suspenders, painted face with big red nose
Cowboy: jeans, boots, bandana, cowboy hat
Doggie: brown hooded sweatshirt with ears and tail, large toy bone, doggie face paint
Fairy: leotard and matching tights with tutu or scarf skirt, poster board wings decorated with glitter paint, magic wand
Firefighter: blue or black pants and shirt, firefighter hat, toy fire extinguisher, "smoke" smudged cheeks
Genie: leotard and loose fitting pants, silky fabric or scarves wrapped around waist and head, shimmery jewelry
Gingerbread Girl/Boy: Brown sweats with white ribbon or fabric paint "icing", red felt or fabric paint "candy" buttons, brown face paint with white cheeks and red lips
Hula Girl: grass skirt, bathing suit top and flower lei over beige leotards
Kitty: black leotard and tights, black feather boa tail and trim, headband ears, kitty face paint with whiskers
Knight: gray pants, t-shirt with iron-on or painted coat of arms, plastic crown and plastic sword
Lady Bug: oversized red sweat shirt with black felt or fabric paint spots, black tights, headband antenna
Movie Star: form fitting pants and shirt, "silk" scarf, shimmery jewelry, big hair and make-up, oversized sunglasses
Ninja: form fitting black sweats or pjs, black hat, hood or bandana, plastic sword
Pirate: old pants or jeans cut jagged below the knee, white shirt, pirate hat, eye patch, plastic sword
Pumpkin or Jack-o-Lantern: oversized orange sweatshirt, black or brown tights, orange painted face, green ski hat
Robot: gray sweats with old CD disk and wires sewn on front, gray face paint
Sheriff: khaki pants or blue jeans, white dress shirt, sheriff badge, cowboy hat
Skeleton: black sweats with bones painted on in glow-in-the-dark fabric paint, white face paint with black around eyes and mouth
Sleeping Beauty: (not the princess) – pajamas, robe, slippers, curlers, face cream
Spa Girl: bathrobe, towel wrapped head, green face mask
Spider: black leotard and tights, stuff old black tights or long socks and attach to sides of leotard for spider legs, black stocking cap with pipe cleaner antennae
Train Engineer: blue jean overalls, white shirt, red bandana, engineers cap
Tropical Tourist: Hawaiian shirt, shorts, sunscreen on nose, sunglasses, straw hat, camera around neck
Witch: black shirt and skirt over black tights, purple, orange or metallic fabric cape, black witches hat
Wizard: black shirt and pants, long metallic fabric cape, wizard hat, wand
Try to go shopping for your child's costume or make-your-own costume supplies by early October when the selection is still good. However, if you find yourself with only a couple days, hours, or minutes to come up with a costume, don't panic. You probably have the makings of a fine costume in your house.
For younger children, start by raiding your child's dress-up supplies. Capes, swords, fairy wings, and tiaras can provide the key elements for a fun costume. Dance recital costumes can also work for a quick and easy costume.
If your child has a pair of overalls or a flannel shirt, you have the makings for a farmer or scare crow costume. Add a bandana, a packet of seeds, a stuffed farm animal and watering can (serving double duty as a candy collector) for a farmer. Add a paper hat, straw, and face paint for a scarecrow.
Turn a tie dye t-shirt into a 60's costume. Just add a head band and beaded necklace. Turn an old party or bridesmaid dress into a princess or diva costume.
Sports uniforms (football, hockey, karate, gymnastics, cheer, etc.) and gear can become fun costumes. Add padding for an exaggerated muscle effect and some tough looking or ghoulish face paint.
Black or gray sweats, pants and shirts are the starting point for a last minute scary costume. Just add a ghoulish zombie or monster face with face paint or everyday cosmetics – red lipstick and black eyeliner will work in a pinch.
Last minute costume ideas are especially valuable during the teen years when your child may act apathetic about Halloween until friends call with a last minute party or trick-or-treating invitation. You'll seem like Super Mom if you have a couple quick costume options ready.