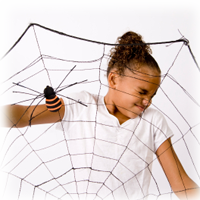 Decorating for Halloween is a great way to get into the "spirit" and set the stage for trick-or-treaters and party guests. Cute decorations like scarecrows and smiling jack-o-lanterns are fun for young children. Older children often like the scary stuff – tombstones, skeletons, and gory monsters.
Pumpkins
Add Fall color to your house and yard by displaying pumpkins throughout October. As Halloween approaches carve a few large pumpkins into jack-o-lanterns. If you're having a party, carve your last name or address numbers into a pumpkin to help guests find your house. See our Pumpkins page for more pumpkin decorating ideas.
If you set jack-o-lanterns on your porch or along pathways, make sure they are far enough out of the way so that kids costumes won't be near the flames.
Haunted House
Use old tree branches and dead leaves to create an abandoned house look in your front yard or porch. Play a music CD of scary sounds and use dry ice or a fog machine to create an eerie mist.
Graveyard
Cut tombstones from cardboard. Paint gray and write epitaphs (funny or scary) on the "stones" in black. Use duct tape to attach a stake to each tombstone and place in your yard slightly askew for an old, abandoned grave yard look. Partially bury old hats and shoes or plastic hands and feet to represent the dead trying to escape on Halloween.
Ghosts
Cover white or clear balloons with white cloth, netting, or plastic garbage bags. Tie ghosts to a tree branch so they can float in the wind.
Spooky Spiders
Big, hairy bendable spiders are fun to attach to porches and trees and fold up for easy storage.
Lights
Decorate with twinkle lights in orange, purple and green to add sparkle to your Halloween. Hang strings of lights shaped like ghosts, jack-o-lanterns, or other Halloween shapes in bushes, trees, or from the eaves.
Luminaries
Cut scary faces in one side of several paper lunch bags. Fill bags with a couple inches of sand or gravel. Place a votive candle or tea light in each bag and light on Halloween night.