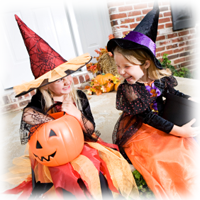 Celebrate Halloween with a fun and spooky party. Keep the scare factor low for younger children, but gear it up for tweens and teens.
Invitations
Make invitations in the shape of a jack-o-lantern, ghost, bat, spider or tombstone. If hand delivering the invitations attach a plastic spider and fake cobwebs. Ask guests to come in costume.
Decorations
Decorate with balloon ghosts (balloons covered with white cloth, netting or garbage bags), cardboard or plastic skeletons, and spider webs. Use old tree branches and dead leaves to create an abandoned house look in your front yard or porch. Decorate inside with orange, black, green, purple, and silver balloons helium balloons. Play Halloween songs or scary sound effects.
Games & Activities
Play pin-the-wart-on-the-witch or pin-the-nose-on-the-jack-o-lantern. Make a gross-out box… put pudding in a plastic bag (a heart), potato chips (scabs), dried apricots (ears), peeled grapes (eye balls), tapioca (frog eggs) inside a box for kids to feel. Toss hoola hoops over large pumpkins or jack-o-lanterns or bean bags into the mouth of a cardboard ghost. Play hot pumpkin – like hot potato, but with a small pumpkin.
Make a guess how many jar. Fill a clear glass or plastic jar (with a secure lid) with a known quantity (yes, you have to count them!) of candy corn or gummy worms. Decorate the jar and lid with stickers and provide slips of paper for guests to write their names and their "guess" and a small basket or box to collect the entries. At the end of the party award the jar of goodies to the child with the closest guess.
Write the word halloween, jack-o-lantern, or scarecrow at the top of a poster board and have guests see how many other words they can spell with these letters. Tell or read scary stories. Pass around props to trigger ideas. Go trick-or-treating in your neighborhood or have costume parade around block. Set-up a few neighbors with candy or favor items to distribute if it's not Halloween Night.
Arts & Crafts
Have guests decorate large paper bags or white pillow cases with glitter pens and stickers to use as trick-or-treat bags. Provide face paint for guests to paint each other with scary faces. Decorate small pumpkins with markers, stickers and glitter glue. Make play dough or modeling clay monsters and pipecleaner spiders.
Party Foods
Serve spaghetti or pizza, baby carrots (gremlin toes) with ranch dressing, and cream cheese stuffed olives (eyeballs). Decorate cupcakes with gummy worms or make spider web brownies by drawing a spiral on pan of brownies or individual brownies with white icing and pulling a tooth pick through the design to create a web effect. Serve red fruit punch in a caldron.
Party Favors
Give guests Halloween stickers or tattoos, vampire teeth, glow sticks or mini flashlights as party favors.