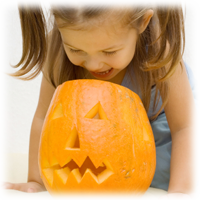 Pumpkin carving originated with Irish immigrants who came to America in the 1800s. They had a tradition of carving lanterns from turnips and displaying them on All Hallows Eve to welcome the spirits of the deceased. In America, these immigrants found pumpkins to be more readily available and easier to carve than turnips and Jack-O-Lanterns soon became a Halloween tradition.
Picking the Perfect Pumpkin
Pumpkins can be purchased at farms, pumpkin patches, produce stands and grocery stores. Pumpkin farms and patches are listed in our Local Fun Directory. Regardless of where you buy your pumpkins, look for pumpkins that are:
free of bruises, soft spots, cuts or nicks
have at least one relatively flat surface that is vertical or facing a bit upward and sit well on the ground without rocking
have some stem, but don't carry it by the stem or it may break
are the desired shape – tall and thin for funny faces, fat and round for happy faces, odd and misshapen for scary faces
are the desired color – orange is traditional, but white, yellow and green pumpkins can be used to create unique skull, ghost and monster Jack-O-Lanterns
are the desired size – medium to large pumpkins are easiest to carve, but small pumpkins are fun to decorate with paint or permanent markers
Choose one family pumpkin or one pumpkin for each member of your family to carve or decorate.
Creating Your Jack-O-Lantern
Simple, bold designs are best for young children – large triangle or circle-shaped eyes and noses and a few large gaping teeth. Young children can draw the design and help clean out the pumpkin, but the actual carving should be completed by an adult.
For easy clean-up place your pumpkin on several layers of newspaper before carving. Make a lid by cutting a circle around the stem with a sharp, sturdy knife or tiny "saw" from a pumpkin carving kit. The lid should be large enough to allow you to easily reach inside the pumpkin to clean it out and place and light a candle. When cutting the lid, angle the knife inward, so that the top edge of the lid will be larger than the hole. This will help prevent the lid from falling into the pumpkin, particularly when the lid begins begins to shrink as it dries out.
Use a metal serving spoon or ice cream scoop to remove the pumpkin "guts". Save the pumpkin seeds to roast with a bit of oil and salt for a tasty snack. Scrape the inside of the pumpkin walls as smooth as possible to reflect light and reduce the risk of a pumpkin fire.
Rotate your pumpkin to identify the best place to carve your design. Sketch designs on paper until you have one you like. Then draw the same design on your pumpkin using a permanent marker. Cut along the marker lines with a sharp knife or pumpkin saw. When done cutting, push out the pieces to view your creation. Use a dab of finger nail polish remover to remove any remaining marker lines.
Older children and adults may enjoy the challenge of complicated designs, such as spiders, witches, black cats, tombstones, and other Halloween symbols. Or carve a pumpkin to represent each member of your family either in appearance or based on their interests or hobbies. Carve pumpkins to resemble the family cat or dog. Help Halloween party guests find your house by carving a pumpkin with your house numbers or your family's last name.
As an alternative to pumpkin carving, allow young children to decorate pumpkins with permanent markers, paint or stickers.
Displaying Your Jack-O-Lantern
Use a votive candle in a glass holder, tea light, or battery operated light to illuminate your Jack-O-Lantern. Place Jack-O-Lanterns away from curtains and other flammable objects and do not leave lit pumpkins unattended.
For longer life, soak your Jack-O-Lantern for an hour in a solution of 1 teaspoon bleach to 1 gallon of water to delay mold growth. Allow to dry and then rub the inside, outside and all cut surfaces with vegetable oil to minimize shrinkage. Move your Jack-O-Lantern out of direct sun and into a cool place during the day to reduce decay and shriveling.
Sprinkle the inside of the pumpkin with cinnamon, nutmeg, or cloves for a cozy Fall fragrance. No matter how good it smells do not eat a pumpkin that has been carved as a Jack-O-Lantern. It'll be full of bacteria, mold, bugs, and other scary things.