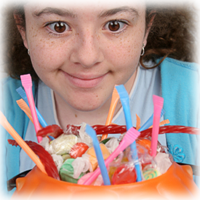 Put smiles on the faces of trick-or-treaters and party guests with fun and yummy Halloween treats. Fill a plastic cauldron or jack-o-lantern with assorted candy to offer trick-or-treaters. If you prefer to offer healthier treats, chocolate chip granola bars and fruit roll-ups are well-liked by many children. Also, consider non-edible treats, such as pencils, erasers, stickers and press-on tattoos.
Homemade treats are great for parties, but generally aren't acceptable for trick-or-treaters. However, if you live in a close-knit neighborhood, homemade treats, such as trail mix, cookies, rice krispie bars, popcorn balls and caramel apples may be welcome. Be sure to carefully wrap homemade treats and include a label with a Halloween greeting, your name, and address.
For Halloween parties serve kid-friendly foods with a spooky twist. Label items with gross names and use plastic witches cauldrons and jack-o-lantern buckets as serving containers. Some ideas:
mini pizzas decorated as jack-o-lanterns or with scary faces (using olives, vegetable strips, and pepperoni slices)
macaroni and cheese – (slimey grubs)
spaghetti in tomato sauce (blood and guts)
baby carrots (gremlin toes) with ranch dressing served in a hollowed out mini pumpkin
cheese sticks (goblin fingers)
cream cheese stuffed olives (monster eyeballs)
grapes (ogre eyes)
potato or corn chips (troll ears)
caramel apples
cupcakes decorated with gummy candy spiders or worms
spider web brownies (draw spiral on pan of brownies or individual brownies with white icing and pull tooth pick through design to create web effect, garnish with gummy candy spider)
rice krispie treats decorated with orange and white sprinkles
fizzy fruit punch (berry juice with sparkling apple juice or gingerale)
Visit Spoonful or All Recipes for fun Halloween recipes.